Advantages of J-KEM Robotics
CUSTOM DESIGN
While others start from an existing design, then try to make your application fit their instrument, every J-KEM workstation is designed from scratch to perform your automation task efficiently and with an eye towards future expansion.
YOU OWN THE SOLUTION
J-KEM believes that you should not only own the instrument, but you should own the solution itself. That's why J-KEM is the only company that releases the original source code with every robot. When you own the robot but don't own the code, you're dependent on the manufacturer to make even the smallest modification to accommodate your changing research needs. J-KEM believes if you own the robot, then you should own the power to control it.
ECLIPSE ROBOTICS
Eclipse robots are J-KEM's most popular series because of the enormous flexibility of deck configuration, modular design, and affordable price. The Z-arm supports multiple tools, such as grippers, septum-penetrating needles, cannula, pH and spectroscopy probes, and disposable tips. See examples of this series.
Download our PDF flyer for Eclipse robots
ARTICULATING ARM ROBOTS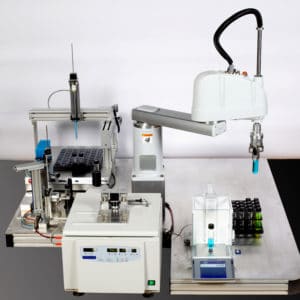 4-Axis SCARA and 6-axis articulating arm robots perform intricate motions to load, pour, mix, or otherwise manipulate samples with the dexterity of a human hand.
Download our PDF flyer for SCARA robotics
ENDEAVOR ROBOTICS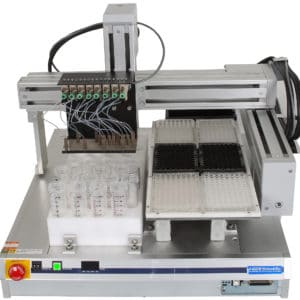 With the professional features expected from high-end research robotics, the Endeavour Robot is one of J-KEM's most affordable series. Its key features are accuracies of .002mm for all axes, high speeds (300mm/sec), 16 programmable inputs/outputs, simultaneous 3-axis motion, all in a compact design. See examples of this series.
Download our PDF flyer for the Endeavour robot
TITAN ROBOTICS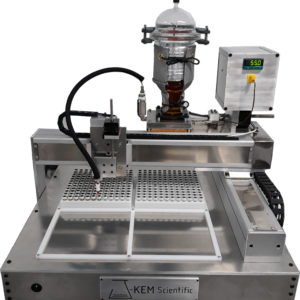 The Titan robot is designed for applications that need sophisticated automation, but don't require all the features or modules that are available on other classes of J-KEM robotics. Built with an eye towards practicality, the Titan robot is capable of performing a wide variety of intricate tasks reliable and with high precision. Microliter accuracies for dispense an aspirate operations. Serial dilutions, cherry picking, sample preparation, and weighing tasks. See examples of this series.
Download our PDF flyer for the Titan.
SPECIAL PURPOSE ROBOTICS
J-KEM makes many special purpose robots for difficult, repetitive applications. See examples of this series.
• soil pH and nitrate robot
• smokeless cartridge filling robot
• custom fraction collectors
• weighing robots
Download our PDF flyer for our Soil pH robot