Reaction Controller
Automate Reaction Control
Simplicity

Control reaction variables from a single Excel-like interface
Multi-step ramps for reaction temperature, reagent addition, mixing
Solution pH control
Add multiple reagents based on time, temperature pH, Pressure

Safety

User-definable alarms for all reaction parameters
Define alarm response, including emergency shutdown

Versatility

Ideal for methods development and reaction optimization
Exactly reproduce reaction conditions for production runs
Methods storage and recall
The Reaction Controller automates the reaction process by controlling reagent addition, temperature control, stirring, data collection and any other required parameter through a single interface. It consolidates the control of various lab instruments such as recirculating chillers, stirrers, and pumps into a single graphical interface. Additionally, the Reaction Controller data logs system parameters such as temperature and solution pH. Adding a syringe pump to the Reaction Controller provides all the functionality of J-KEM's single syringe pump and automates the addition of multiple reagents to the reaction as a function of time, temperature, and pH.
The genius of the Reaction Controller is that the user can change the sensors read (pH probe, thermocouple, etc.) and the instruments controlled (chillers, stirrers, pumps, etc.) as the user's research needs change.
KEM-RxC Software
Organizes the controls of the Reaction Controller into a tabbed document in table or graphical form. The addition of up to six reagents, temperature control and mixing can be programmed by the user and adjusted in real time and can be customized to meet virtually any reaction or process control requirement.
Sensors – Read any analog sensor to monitor and control pressure, flow rate, oxygen or ion concentrations.
Instruments – Automate other instruments, such as UV spectrometers, fraction collectors, pumps, and balances by placing them under the control of KEM-RxC software.
Digital – Monitor for external events or control external valves, motors, or virtually any other device.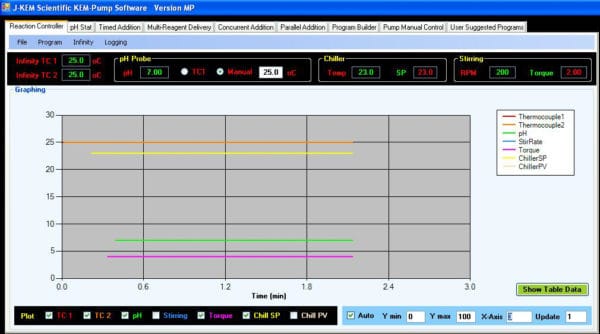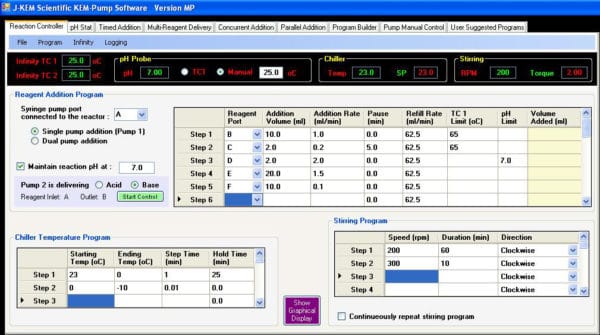 Process Controller
A special implementation of the Reaction Controller is as a process controller to map the reaction space around a specific chemical reaction. The Reaction Controller can be customized to run multiple, sequential reactions with easy setup and data logging of all reaction parameters. J-KEM also customizes the user interface to present the controls needed for your unique application.
Automate:
Liquid pumps
pH control
Circulators
Pressure/Vacuum control
Balances
Solid addition
Valves
Sensors:
Temperature
pH
Pressure
Turbidity
Dissolved oxygen
UV and in-line sensors
Custom Features
Import reaction conditions from Excel
Log reaction conditions and all run-time data to a customized output file
Periodically sample the reaction mixture
This product is built to order and the price may vary. Request a price quote for more information.
Request a Quote »